2020 Award Winners
1. Ed Finn Award for excellence in writing for print
Winner: Staff produced - CAUT The Long Path to Equity 
Honourable mention: Staff produced - BCTF "Reconnecting with the land restores teachers' spirits after hard emotional labour" by Nancy Knickerbocker
Winner: Volunteer produced - OPSEU Local 110 "I'm OK, So Why Worry?" by Darryl Bedford (page 2)
2. Best Photo
Winner: Staff produced - Toronto Public Library Workers (CUPE Local 4948) "Toronto Labour Day" by Robert Murdoch
Winner: Volunteer produced - MoveUP "Environment committee meeting owls" by Bruce Sarvis
3. The Freeperson Award for best cartoon, illustration or infographic
Winner: Staff produced - Unifor "See the pain behind the cuts"
Honourable mention: Staff produced - MoveUP "Fair treatment" by Huw Evans
Winner: Volunteer produced - SCCC-UQO "Donalda Charron"
4. Morden Lazarus Prize for best editorial, column, or opinion piece that thoughtfully argues labour's position on an issue
Winner: OPSEU Local 110  "Provincial Government and You" by Whitney Hoth
5. The Cliff Scotton Prize for narrative, video, audio or visual that reflects history, traditions and culture of the labour movement
Winner: Unifor - "Auto industry video"
Honourable mention: UFCW 1518 - "Building Worker Power: The case for organized labour today" by Diana Perez
6. The Fighting Oppression Award for a communications initiative that raises consciousness and contributes to struggles against racism, sexism, homophobia, ableism and other forms of oppression and discrimination.
Winner: PSAC - Trans inclusive workplaces
Towards Inclusion 101 (English) Vers l'inclusion 101 (French)
Towards Inclusion | Vers l'inclusion
Building Trans-Inclusive Workplaces: Bargain. Campaign. Educate (English)  Etre solidaires des travailleuses et travailleurs trans : Négocier. Militer. Informer. (French)
7. Best campaign – can be produced by an ad agency
Winner: Best local campaign - volunteer produced - Unifor 1S - "Hold the line 2.0"
Winner: Best local campaign - staff or agency produced - SEIU-West - "Be fair to those who care"
Winner: Best provincial or national campaign - CUPW - Justice for Foodora Couriers
 
8. The Katie FitzRandolph Award for best overall regular print publication
Winner (staff produced): ONA - "Frontlines"
Honourable Mention (staff produced): UNA - "News Bulletin"
Winner (volunteer produced): Unifor Local 1285 - "1285 News"
Gagnante (produit en français): SCFP - La Réplique
9. Rosemarie Bahr award for excellence in print layout and design in regular print publication
Winner: (staff produced) - MoveUP - "Local Voice"
Winner: (volunteer produced) - OPSEU InSolidarity - "InSolidarity"
11. Best short video, made for TV broadcast or online distribution.
Winner: Toronto Public Library Workers (CUPE Local 4948) - "Staffless libraries"
12. Best narrative video, or video series documentary
Winner: Unifor - "Unifor National Solidarity Video"
13. Best audio production: radio ad, podcast.
Winner: MoveUP - "Think US Health Insurance"
14. Best hard copy promotional material
Winner: Hospital Employees' Union - "Red Dress Pin"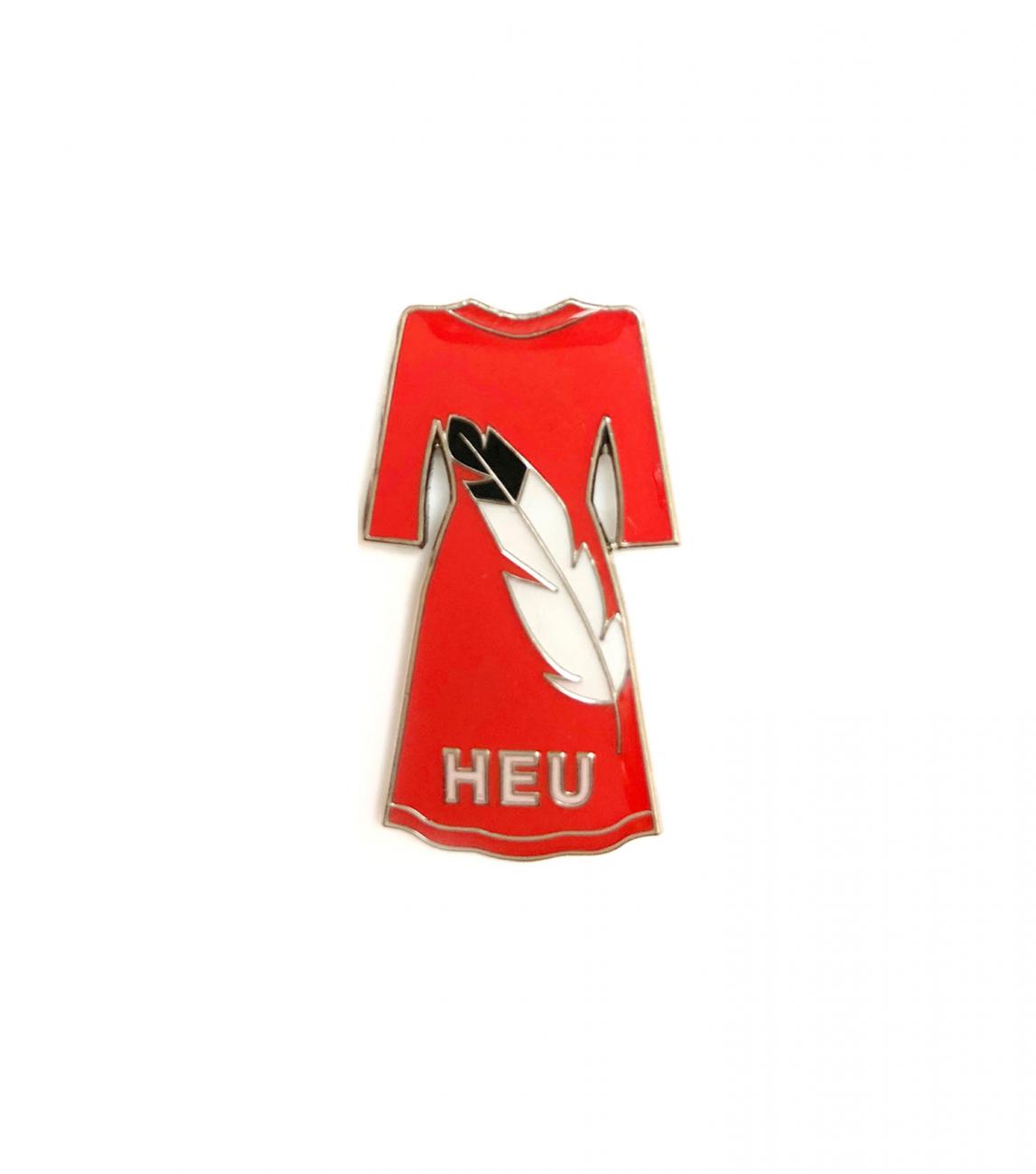 Honourable Mention: UFCW 1518 - Organizing booklet
15. Dennis McGann Stroke of Genius Award
Winner: Unifor - Save Oshawa
16. Best Poster
 
Winner: Staff produced - CUPW - National Day of Remembrance and Action on Violence Against Women
Winner: Volunteer produced - CUPE Local 3906 - Free Menstrual Cups
17. Best membership mobilization material
Winner: USW Local 1998 - Sustainable and reusable cutlery
18. Best website content
Winner (staff produced): Unifor www.unifor.org
Winner (volunteer produced): USW Local 1998 www.usw1998.ca
20. Most innovative online tool
Winner: Unifor Local 88  Unifor Local 88 APP
21. Best Meme
Winner: MoveUP - Happy Pi Day
22. Best use of social media by a union
Winner (staff produced): Hospital Employees Union
Winner (volunteer produced): Unifor Local 594
2020 Awards Judges
English writing categories
Emily Leedham
Emily Leedham is an independent labour journalist based in Winnipeg, Manitoba. She is an editor at RankandFile.ca and hosts a week labour news podcast Rank & File Radio - Prairie Edition. Her work has also appeared in Vice, Briarpatch, Canadian Dimension.
Écriture en français
Émilie Nicolas
Emilie Nicolas est anthropologue, consultante et chroniqueuse pour le Devoir. Engagée pour la justice sociale et reconnue comme bâtisseuse de ponts, Emilie a collaboré à la mise sur pied de Québec inclusif en 2013 et d'une coalition en faveur de l'égalité et contre le racisme systémique au Québec. Ses travaux ont été publiés dans plusieurs revues, magazines et journaux, et elle est souvent invitée à titre de commentatrice par les médias, de formatrice et de conférencière sur les droits de la personne.
PHOTO: Crédits: Daniella Barreto
Online categories
Erica Ifill
Erica Ifill is an activist and economist-turned-entrepreneur who founded 2 businesses determined to address our most pressing political, technological and societal issues from an equity perspective: the Bad + Bitchy podcast, which focuses on politics and society, and Not In My Colour, focusing on technology and digital media.
Erica is also columnist for The Hill Times, where she writes about federal politics, and whose additional bylines include: Macleans, Policy Options and the Globe and Mail.
Design categories
Paige Galette
Haitian, activist and feminist, Paige Galette is passionately involved in political movements fighting for social justice; the labour movement, women's movement, Queer movement and the Black liberation. Although she maintains that she is not a photographer, Paige's image serves on the cover art for the book Until We Are Free: Reflections on Black Lives Matter in Canada (Diverlus, Hudson, Ware).

Strong advocate of reproductive justice, Paige currently sits on the Community Midwifery Association of Yukon (CMAY) which will see the regulation and implementation of midwifery throughout the Territory. Holding a Bachelor's Degree in Social Sciences and Political Sciences, Paige also sits on the Yukon Child Care Board, a ministerial appointed bord of the territory.
Broadcast categories
Rob Rousseau
Rob Rousseau is a writer and podcast host from Montreal, Quebec. He is the host and producer of popular Canadian politics podcast 49th Parahell, as well as a new show covering the United States presidential election, The Insurgents. A former professional musician, he has experience working with world-class audio engineers and producers at state-of-the-art studios around the world. His writing has appeared in publications like Paste Magazine, Vice, and Passage.
----------------------------------------------
To see the past awards winners click here